Businesses today usually have an online presence on multiple social networks and a website, but more and more individuals too. Whether you are an entrepreneur or an individual, you have every interest in mastering the creation and maintenance of content without having in-depth computer knowledge.
Almost a third of websites have been made with the handy WordPress content management system. Over 55,000 plugins are available to users around the world. Among this multitude of plugins, they will only use the extensions that offer the functionality they need and best meet their individual requirements. Many WordPress Instagram plugins allow, for example, to integrate an Instagram feed into WordPress in a few clicks. So you can enhance your website with quality Instagram images without having to generate duplicate content and give your users the opportunity to follow you on Instagram. We present to you the best Instagram plugins and widgets for WordPress.
Main features of WordPress Instagram plugins
Instagram app allows you to take, edit and share photos without additional app. With just a few clicks, brands, businesses and individuals can get professional photo galleries without prior knowledge in image processing. However, in many cases, your website visitors are not yet following you on Instagram. This is why it is interesting to integrate your Instagram feed with WordPress and therefore with your website . You will be able to exploit the quality content of the social network and, possibly, attract new followers. However, the more new images you post, the more laborious the manual dual management will be.
A WordPress Instagram plugin saves you this manual work: it allows you to integrate your Instagram feed into WordPress so that new photos are automatically published on your website. But the palette of Instagram plugins is vast . The simple tools, with limited functionality, share your Instagram feed identically on your website and can be installed particularly quickly. Requiring a more laborious single integration, however, full extensions give you more freedom in individual design. Choosing the right plugin will depend on your personal requirements . Here are the most common features of WordPress Instagram plugins:
Auto Refresh : Automatically  posting new Instagram images to your website is a basic feature that any Instagram plugin allows.
 
Responsive design  : With the increasing use of mobile devices, this functionality is currently essential for all applications and widgets. Indeed, a responsive design allows you to display your content optimally, whatever the size of the device.
 
Content Tailoring  : Free Instagram WordPress plugins only allow content tailoring to a limited extent. Conversely, premium tools also allow filtering according to specific criteria such as hashtags or specific locations.
 
Number of accounts and feeds  : Full plugins allow synchronization with different Instagram accounts or sharing of multiple feeds on your website.
 
Instagram button  : This is an essential feature if you want your website visitors to follow you on Instagram. Thanks to the "Follow us" button, visitors are directed directly to your Instagram account.
The best WordPress Instagram plugins
We will now compare six Instagram plugins and widgets for WordPress for you. While each of them can be installed for free , most only offer all of their features in their premium paid version. At the end of this article, you will find a recap of all featured WordPress Instagram plugins.
10Web Social Photo Feed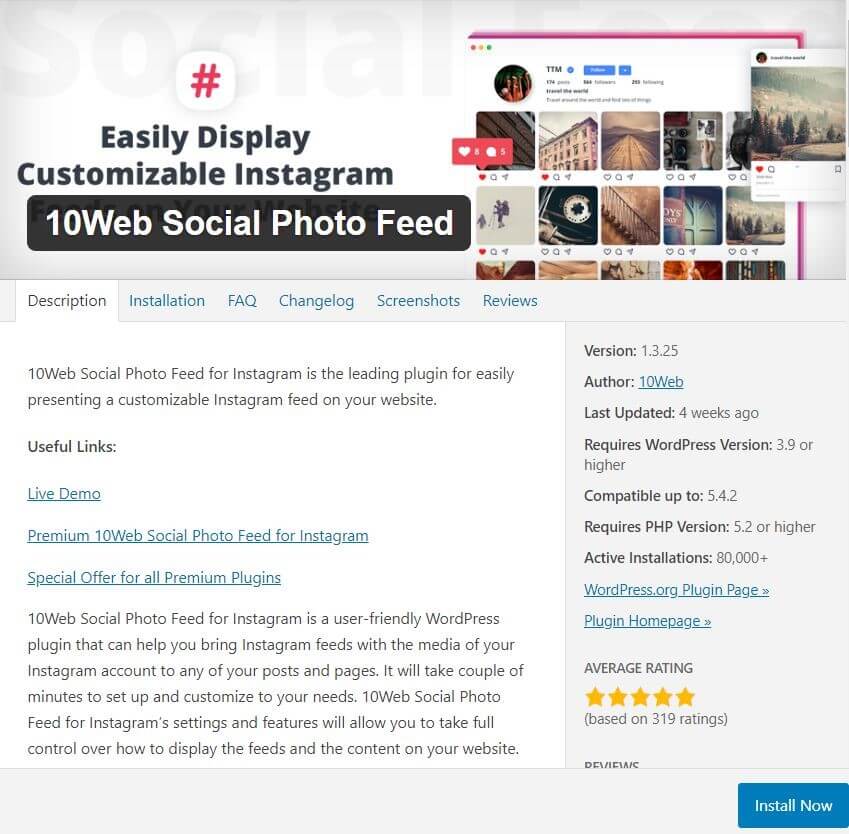 The 10Web Social Photo Feed Instagram plugin records more than two million downloads worldwide and allows many changes to be made when integrating the Instagram feed. The WordPress Instagram plugin is distinguished by rapid integration and comprehensive, individual setting options . The layouts offered include different presentation formats, from thumbnails to quality photo gallery. The built-in Instagram widget for WordPress shows your Instagram feed in the sidebar of your website. With the paid pro version, the display can be tailored even more precisely using numerous filters or by changing the color, size and style to match your website design.
| Advantages | Disadvantages |
| --- | --- |
| ✔ Frequent updates and full support | ✘ Only available in English |
| ✔ Layout templates | ✘ Many useful features only available in the paid pro version |
| ✔ Individually adjustable filter logic (pro version) | |
| ✔ Widget available | |
Social Slider Widget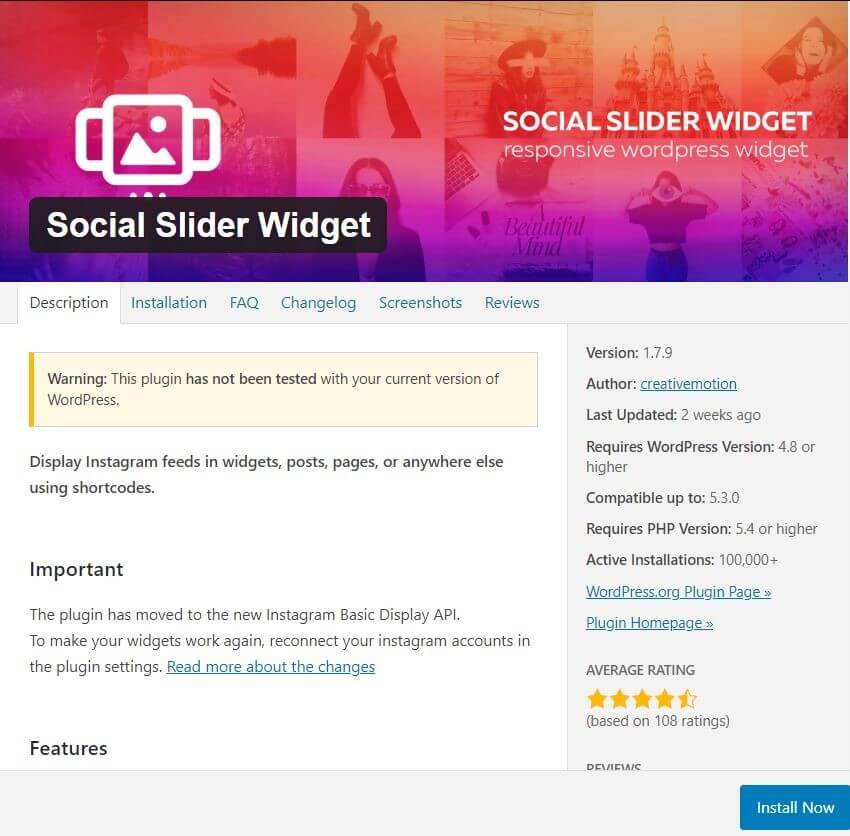 The Social Slider Widget plugin allows you to integrate your Instagram feed into WordPress as a user-friendly widget. It can be embedded anywhere on your website via a shortcode. For this, you will not need any authorization or API key, you just need to enter a username. To use this entire Instagram widget for WordPress, however, you will need additional permissions.
The free version allows you to sort your content by date, popularity or randomly. By the way, you can individually determine the size and layout. The pro version also allows you to present your Instagram feed on WordPress in the form of a carousel as well as to insert captions. Similarly, connecting to different Instagram accounts and viewing multiple feeds are only possible with the pro version.
| Advantages | Disadvantages |
| --- | --- |
| ✔ Integration with a short code | ✘ Not tested with the latest version of WordPress (as of June 2020) |
| ✔ No authorization required | |
| ✔ Pro version available | |
| ✔ Several accounts and feeds (pro version) | |
Note
A widget is a dialog box element with individually determined content and integrated anywhere on the website. To put it simply, plugins are small programs. They are therefore much more complete than widgets in terms of functionality.
Smash Balloon Social Photo Feed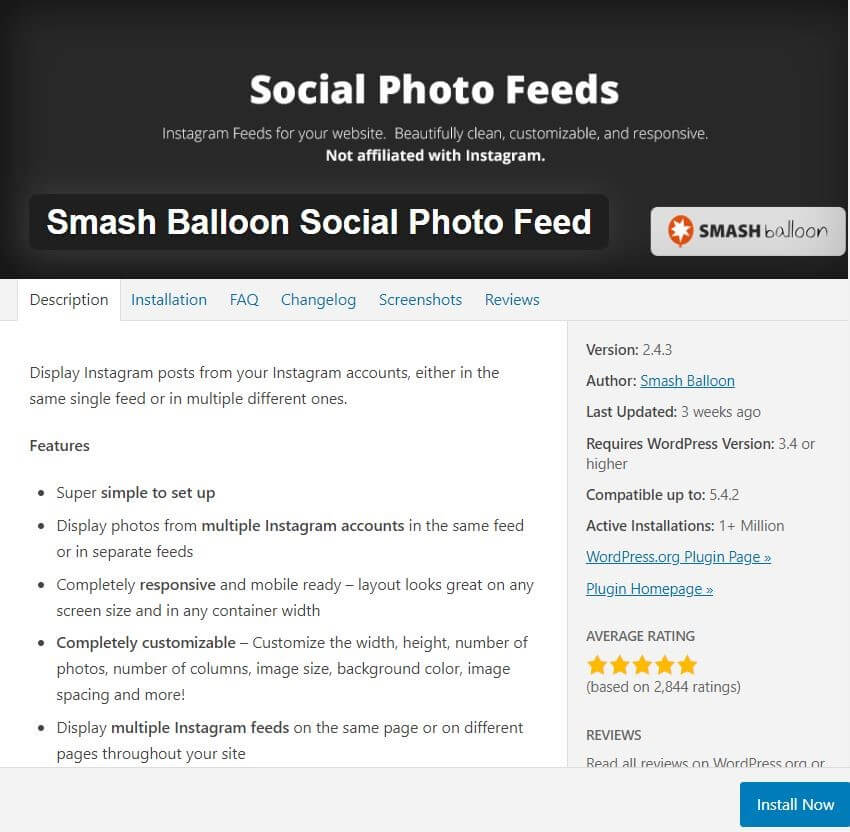 You may know the Instagram Smash Balloon Social Photo Feed plugin as "Instagram feed". Under its new name, it also offers old, well-known and popular features. In our comparison, it is unique in its kind: the connection with different Instagram accounts and the display of several Instagram feeds on WordPress are available from the free version . If you do not personally define the settings, the WordPress Instagram plugin automatically takes over your theme's settings (e.g. fonts, colors and style) and inserts Instagram images on your website in an optimized way.
Integrate the "Follow us on Instagram" button to get new followers . The "Upload more" button is particularly useful when your Instagram feed has a lot of images and you want to show them to your website visitors as well. The paid pro version offers additional features like displaying hashtag feeds, links and comments.
Advantages
Disadvantages
✔ Easy to use
✘ Too complete when you only want to integrate a feed
✔ Several accounts and feeds
✔ Full free version
✔ Individual CSS and JavaScript
✔ Integrated buttons
WP Instant Feeds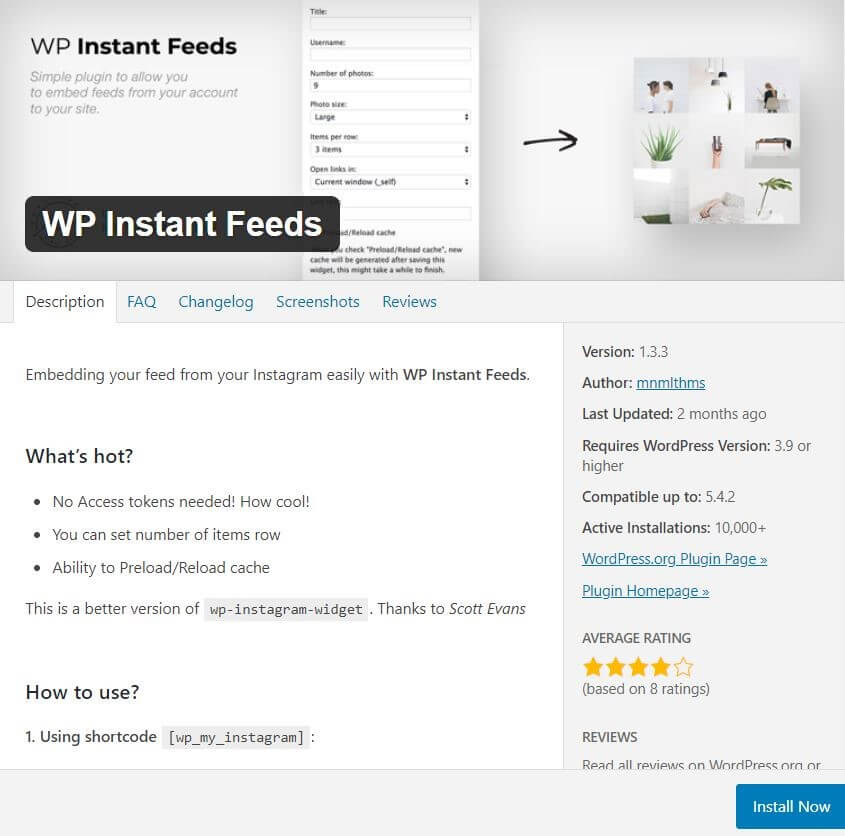 The Instagram WP Instant Feeds plugin is the improved version of the old "WP Instagram Widget". This extension allows you to integrate your Instagram feed on WordPress very simply using a shortcode. With the copy and paste function, you can embed your images wherever you want on your website. In addition, this free tool allows you to individually define the number of images per line as well as the size of the thumbnail. But while the integration can be done very quickly, the adjustment options are very limited. Therefore, this tool will only be suitable for people who are content to integrate an Instagram feed on WordPress.
| Advantages | Disadvantages |
| --- | --- |
| ✔ Free | ✘Only available in English |
| ✔ Simple integration via a short code | ✘ Limited individual settings |