Created in 2010 by Kevin Systrom und Mike Krieger, Instagram is first and foremost a small free platform for online photo sharing. Two years after its debut, it was bought by Facebook, the social media giant, for the record sum of one billion dollars. Instagram at that time had only twelve employees. The application is now used by more than 500 million people around the world . France is no exception to this success and had, at the end of 2016, 10 million Instagram users.
It is first of all the celebrities, sportsmen, actors or models, who have detected the commercial potential of this photo platform (since 2013 we can also post small videos). They regularly post private or work-related selfies, and in this way gain more Instagram followers. On the other hand, companies are still quite reluctant to use Instagram, especially since the application does not yet offer a professional profile, allowing you to display your legal notices for example. Instagram can be very useful when it comes to business marketing.. However, the principle remains the same for companies as for celebrities: the more followers they have on Instagram, the more effective their activities.
More Instagram Followers: Top Tips
If you think of all the tutorials and articles on this topic on the Net, getting Instagram followers in a short time does not seem very complicated. 500 new followers in an hour, 10,000 in a week: apparently there is a very simple little trick. For Instragram, like many other social media apps, there are also questionable offers , which simply offer to buy followers.
The main problem with these methods is that they are not durable . Therefore, they miss the real goal of a large community of followers. Because if it is indeed important to have more followers on Instagram, this community must above all be active. Indeed, a follower just needs to like, comment or share a publication for its visibility rate to increase and generate even more followers. In addition, users do not receive all the news of the profiles to which they are subscribed, but only a selection filtered by Instagram's algorithm., based on the relevance calculation. This means that a subscriber who is not really interested in your content will in the long run stop seeing your posts, even if they follow you.
The goal should therefore be to bring together followers who have access to your content and who, ideally, comment and share it with their contacts. Here is a series of Instagram tips to consider to achieve this goal.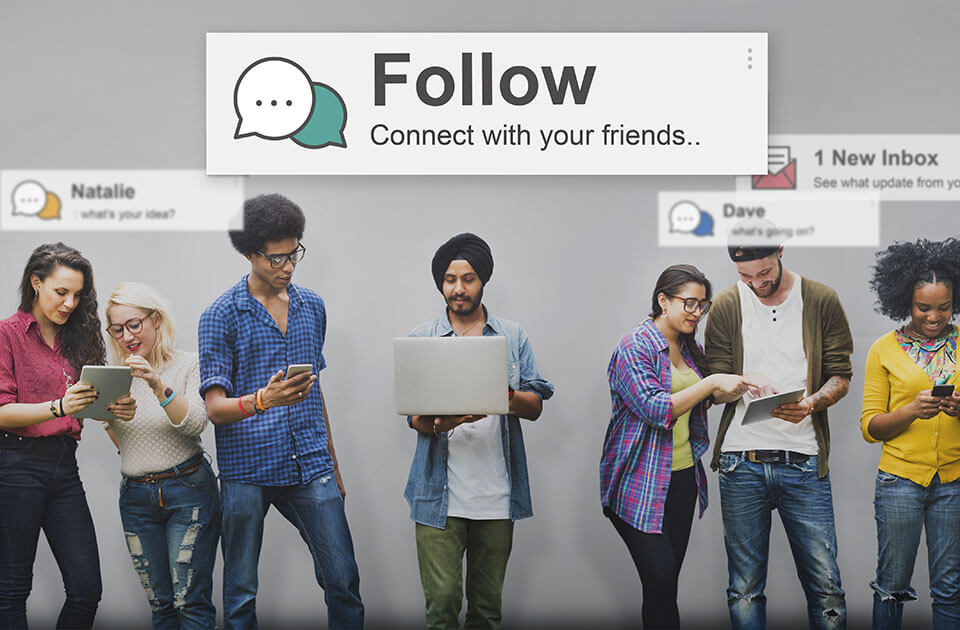 Optimize your profile and content
To get more followers on Instagram, the content strategy is a determining element. Your posts represent your business and your brand, and it's important that what sets it apart comes first. It is essential to take the time to carefully select an appropriate image or subject . When in doubt, it's better to post less when you don't have quality content. As Instagram relies primarily on photos and videos, the quality of photos, visuals and videosis obviously essential. Unlike fans of entertaining selfies, it is important to follow a simple principle: always upload photos with the best possible resolution (since 2015 up to 2048 x 2048 pixels): this way it is not necessarily necessary to use filters typical of Instagram.
An Instagram account is like a showcase. It is advisable to choose an appropriate username, as well as a representative profile picture : this will make your activity clearly identifiable, allowing you to attract the attention of other users. If there is a category that suits you, it is a good idea to choose a main theme for your account, like photography, food, animals, fashion, etc. In general, profiles specializing in a specific topic get more followers. The more the posts are aligned with the strategy, the more visitors the profile attracts. This means that more followers will notice and promote your profile on Instagram.
Use the right hashtags
Hashtags are the essential sorting criteria on Instagram. These are keywords that allow you to classify your content in the platform according to the themes it addresses. The most important thing is therefore to find the hashtags that match both your personality and your content. Feel free to observe other people's strategies and take inspiration from your competitors , especially when they have already been active on Instagram for a long time. However, do not ignore your own research: on top-hashtags.com you will find data for the most popular hashtags, updated daily, such as:
#followback,
# like4like,
#nofilter
#instagood.
Keep in mind, however, that competition is fierce for the most popular hashtags. This is why it is relevant to strike the right balance between very popular hashtags and custom-made ones. Although it is possible to add up to 30 keywords, it is not recommended to do so, as you are already well referenced with five to ten hashtags maximum . To get an overview and avoid having to enter the hashtags again, you can use an application like TagsForLikes , which is a very practical tool. This allows you to save your results to add them to a future publication by copying and pasting them.
Networking
As with any social network, interacting with your followers on a daily basis is one of the most important tasks. It's also one of the easiest ways to get more Instagram followers. Include leading questions and call-to-actions in your photos or videos , which will encourage users to comment on your posts : the more original you are, the better. It's also the best way to bring your own hashtags into play .
Regardless of whether you factor these interactive elements into your posts or not, there is one critical success factor you need to keep in mind when posting: time . If you post at a time of day when the group of people you're targeting is not online, your post's reach drops dramatically. Instagram has recently considered offering its own user statistics. In the meantime, it is advisable to use Instagram analysis tools like Iconosquare . This service provides you with exhaustive statistics on the activity of your followers, the success of each post and thus helps you optimize your Instagram strategy.
Here are also some Instagram tips that are the pillars of networking:
React to comments and likes : Show your interest to your followers and follow their comments when possible. Also thank your followers, when one of your publication meets a particular success.
Connect : Interacting with other Instagramers is sort of the basic philosophy of the photo network. If you follow other users, like and comment on their posts, then they're more likely to do the same for you. Another alternative is to cooperate with influencers.
Geo-location : specifying where a photo was taken and where a video was shot is not necessarily relevant in all cases. However, if you operate on an international level or, conversely, a very local scale, specifying your location can add authenticity to your profile, and make it easier for you to reach the people you are targeting locally. .
Connect Instagram with other social networks : If you are also present on other social networks, it may be worthwhile to connect them to your Instagram profile. However, be sure to offer exclusive content on each network, and not always distribute the same publications on all platforms.
Things to avoid when looking for followers
There are a few pitfalls to avoid when trying to get more Instagram followers. This includes buying followers, mentioned above. Although the purchase in itself does not violate Instagram's rules, it is quite different for automatic posts to your profile , posted by bots and scripts: this is in fact prohibited by Instagram's general conditions .
Aside from legal infractions, there are a number of inappropriate behaviors and sources of error. These include spur of the moment posting, misuse of hashtags, and posting too often . Even if it is obviously possible to delete your publications a posteriori , it is better to ensure upstream that the content and hashtags correspond perfectly to the desired effect, and that they are neither ambiguous nor negatively connoted. With hashtags in particular, it is quite easy to miss your target. It is also recommended not to use popular hashtags unrelated to your post.. Additionally, using auto-generated groups of hashtags is rarely successful.
How to get more Instagram followers: the recap
These Instagram tips increase your chances of making social media an effective advertising platform . Don't panic if your follower count doesn't increase quickly at first. Indeed, a sudden increase in the number of subscribers due to a serious strategy only happens in a few cases: In addition, it is most of the time frowned upon by other users and by Instagram. Finally, here is the summary of the most important tips that will make you successful in finding followers:
Specialize on a particular topic .
Create the content interesting and quality
Find the right balance between personal and popular hashtags
Publish only when you have something to publish
Publish only to the time when your followers are online
Integrate your followers into your posts with questions and call-to-action
Establish contacts with other users or significant influencers
Also promote yourself on other social networks